Stake revolutionizes online gaming with the introduction of fiat currency
There are times when the world of online gaming is turned upside down by news so striking that it changes the game forever. This time, it's Stake, the famous online casino, which has decided to open a new page in its history by now accepting fiat currencies. It's a bold move that could well rock the online gaming industry.
A new chapter for Stake: the adoption of fiat currency
To understand the scope of this decision, we need to go back to the origins of Stake. Until now, this online casino has been exclusively dedicated to cryptocurrencies. Players made their deposits in Bitcoin, Ethereum, Litecoin and other virtual currencies, taking advantage of the anonymity and speed offered by these currencies. But Stake has never been content with the status quo. Always striving to outdo itself, to attract and satisfy more and more players, the casino has decided to break down barriers and welcome fiat currency.
From now on, players can deposit not only in cryptocurrencies, but also in Canadian dollars, Brazilian real and Japanese yen. This decision, far from being insignificant, opens the casino doors to a whole new category of players: those who prefer to use fiat currency.

More than just an expansion, a revolution for gamers
It would be tempting to see this decision as a simple expansion. But in reality, it's much more than that. It's a real revolution for players. Those who up until now have been sidelined because they couldn't use their fiat currency are now welcomed with open arms. They can now play their favorite casino games, try their luck at roulette, without having to worry about converting to cryptocurrency.
But Stake didn't stop there. In addition to the three fiduciary currencies already mentioned, the online casino has also announced that other currencies, such as the euro and the Indian rupee, are now accepted.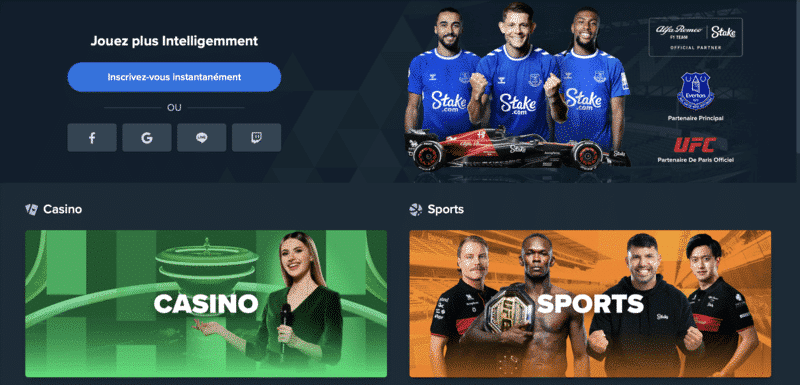 Objectif Stake: redefining the online gaming landscape
In deciding to accept fiat currency, Stake has once again proved that it is a true pioneer, ready to push back the boundaries of what is possible to offer the best gaming experience to its users. It's not just a question of expanding our customer base. It's about redefining the online gaming landscape, making it more accessible, more diverse and more inclusive.
It's this boldness, this willingness to keep moving forward, that has made Stake a leader in the online casino industry. This decision could well be a turning point in Stake's history, a key moment that could well mark the beginning of a new era of growth and success for the online casino!